BAUER BOHRMAX LIGHT
Fully Automatic Drilling System
The Entry-Level Model
BAUER BOHRMAX LIGHT

Scope of delivery / Technical data
In contrast to the BOHRMAX, the BOHRMAX LIGHT is a bit lighter and only equipped with the LAIP quick tool change system.
It is therefore mainly suitable for drilling, in contrast to the BOHRMAX which is very well suited for milling due to its different design and different gear head.
The Bohrmax Light is used mainly for drilling and occasionally milling oblong holes or circles in profiles.
The BOHRMAX, on the other hand, has clear advantages when drilling large diameters into thick plates and when milling. The two machines do not differ in the control and operation of the control system.
Control:
Operation by a simple and clear industrial control
Network compatible with 19" Touch Panel
Program memory for the workpieces
Remote maintenance
No data import
Tool store for drilling tools, with dimensions, speed and feeds
Speed range drilling head 140-2000 rpm
Drive Y+Z +X Axis: Servomotor
Rapid traverse X axis: 24 m/min
Rapid traverse Y+ Z axis: 7.5 m/min
Distance table top edge – bottom edge tool holder 500 mm
Table width: 360 mm
T-slots M12
Tapping: M4 – M20
Tolerance X-axis+/-: 0.2 mm
Tolerance Y and Z axis +/-: 0.1 mm
Drilling head drive motor: 2.2 kW
Front light barrier
Rear access guarding, on-site
Quick-change chuck Laip
Automatic tool length measurement
Vises
Coolant system
Tool changer pick up 5 tools
BAUER BOHRMAX LIGHT

Control & Programming
Clear, graphical user interface
Easy Programming & Control
Produce after one hour of instruction

NO CNC knowledge needed!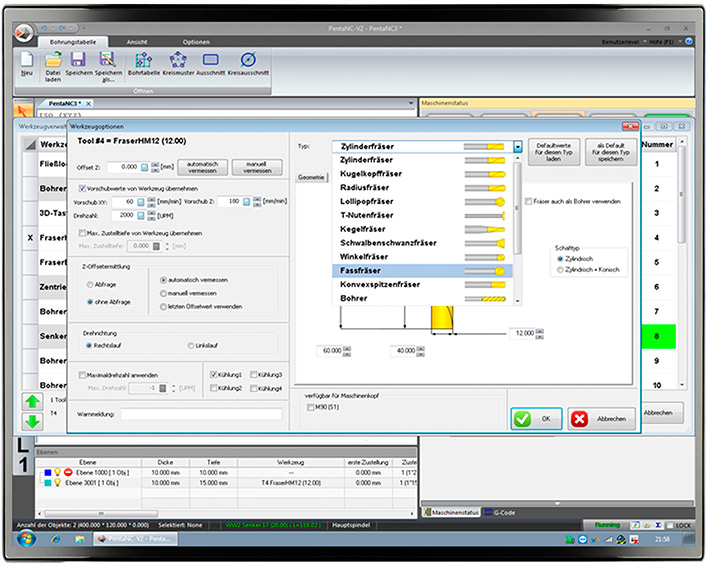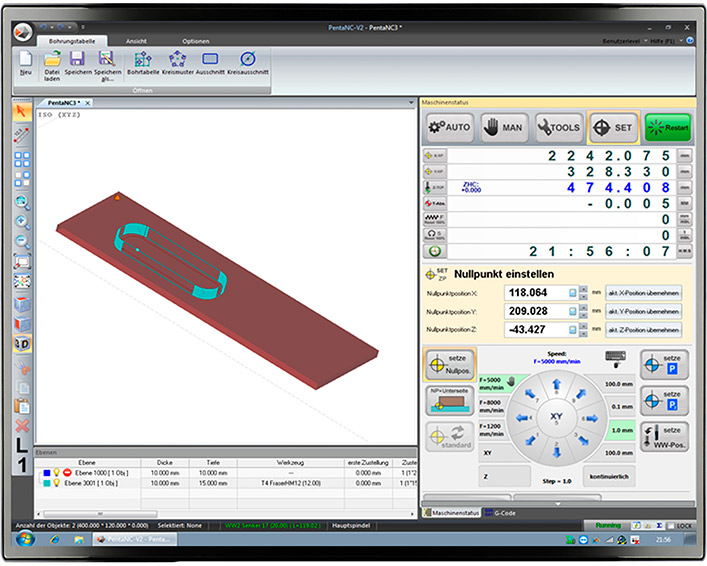 Videos Process / Programming
BAUER BOHRMAX LIGHT

Models – Equipment Variants
TYP
X-axis (mm)
Traverse path
Y-axis (mm)
Traverse path
Z-axis (mm)
Traverse path
BOHRMAX LIGHT 30 L
3050
400
400
BOHRMAX LIGHT 60 L
6050
400
400